Improve the appearance of fine lines, wrinkles, loss of firmness, and discoloration.
Maffi's Aging Skin Essentials target those unwanted wrinkles caused by UV rays and pollution as well as age spots and dryness that occur with age.
SkinCeuticals medical-grade skin care products are clinically proven to help prevent future skin damage, correct visible signs of aging, and protect healthy skin. Maffi's Aging Skin Essentials include: cleansing, preventing, correcting, and protecting.
Use product every morning and evening.
This facial cleanser is designed to effectively remove dirt, makeup, dead skin cells, and excess oil without stripping the skin. Your skin will feel fresh and prepared for the next step in your skin care regimen.
Gentle Cleanser is a creamy, mild cleanser formulated with an emollient-rich surfactant and 3% concentration of key ingredients combining allantoin, glycerin, and orange oil to soften and restore the skin's surface.
This non-foaming cleanser efficiently removes impurities and long-wear face and eye makeup without any trace of residue.
Softens skin while cleansing and lifting surface debris.
Non-comedogenic formula ideal for daily use.
Suitable for dry, normal, sensitive, reactive, or post-procedure skin.
Paraben-free, sulfate-free, soap-free, synthetic-fragrance-free, dye-free, and alcohol-free.
Use product every morning.
C E Ferulic is a medical-grade skin care product clinically proven to help improve the appearance of fine lines, wrinkles, defend against environmental damage, and promote a naturally even skin tone by neutralizing free radicals.
A synergistic daytime vitamin C antioxidant that delivers advanced environmental protection against photoaging by neutralizing free radicals that cause accelerated signs of aging. Watch video.
Increases firmness and replenishes lipids to visibly reduce wrinkles.
Provides advanced environmental protection against damaging free radicals induced by UVA, UVB, and infrared radiation.
Paraben-free and ideal for all skin types.
Use product every morning.
Corrective serums are concentrated formulations designed to correct the appearance of specific skin concerns and conditions. SkinCeuticals science-proven serums are essential for achieving optimal skin health.
A.G.E. Eye Complex is a three-dimensional treatment that contains a unique combination of ingredients to dramatically improve the appearance of dark circles, wrinkles, and puffiness caused by intrinsic aging.
Proxylane™ reduces wrinkles and crow's feet.
Blueberry extract helps prevent future wrinkles and crow's feet.
Includes optical diffusers to improve radiance in tired, dull eyes.
Restores comfort to dry, aging skin.
Alcohol-free and dye-free.
TRIPLE LIPID RESTORE 2:4:2
Triple Lipid Restore 2:4:2 is an anti-aging cream formulated with a maximized concentration of lipids: 2% pure ceramides, 4% natural cholesterol, and 2% fatty acids. All help to restore skin's external barrier and support natural self-repair. Watch video.
Improves the look of skin fullness and texture.
Improves the appearance of skin evenness and overall radiance.
Ideal for aging, normal, and dry skin types.
Paraben-free and dye-free.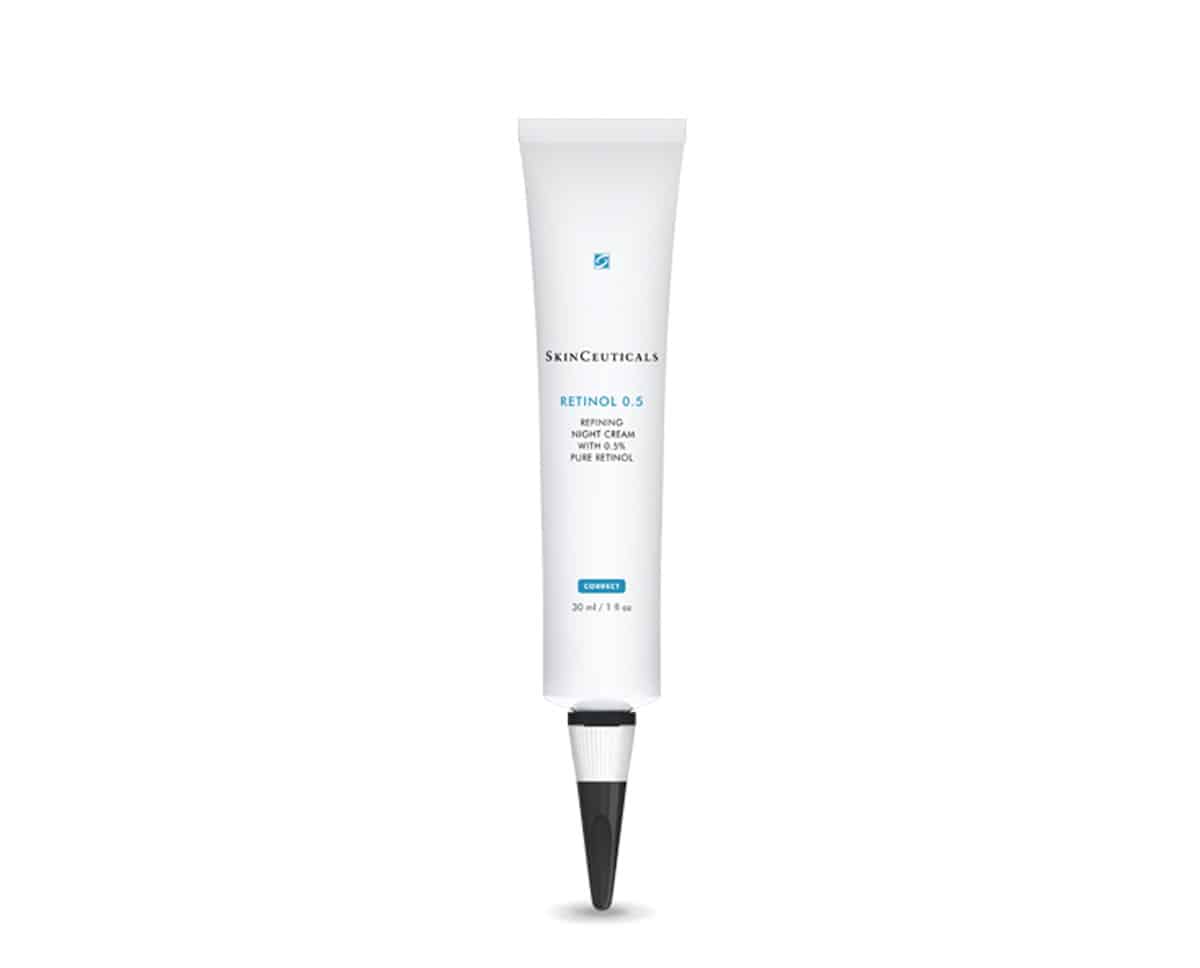 This retinol helps stimulate cell regeneration and build collagen to diminish the appearance of fine lines, wrinkles, and age spots from both photo- and intrinsic-aging. Retinol 0.5 contains 0.5% pure retinol and is recommended as a prerequisite to SkinCeuticals Retinol 1.0. Watch video.
Preserves optimal retinol stability and minimizes irritation commonly associated with the use of retinol.
Ensures maximum amount of retinol reaches the targeted site.
Will not clog pores.
Use product every morning.
Never leave home without it. Sunscreen is key to protecting your skin. It shields your skin from harmful UV rays, helps prevent facial brown spots and discoloration, helps slow down the development of wrinkles and premature aging, and above all can help fight skin cancer.
ULTIMATE UV DEFENSE SPF 30
This broad-spectrum protective cream with transparent zinc oxide helps protect against the damaging effects of UVA and UVB rays. Cosmetically elegant and moisturizing, this sunscreen is ideal for daily use on your face.
Nourishing formulation.
Ideal for high-altitude climates.
For all skin types.
PABA-free, oil-free, and fragrance-free.