MAINTAIN YOUR HEALTHY GLOW
Targeted treatments and skin care products
SKINCARE IN YOUR THIRTIES
Work towards keeping your skin healthy
During your thirties, you will often start to see fine lines and wrinkles appear, and skin tone becoming more uneven. This is the time to choose a smart, 4-step anti-aging regimen, to set the course for a lifetime of good skin. Use a topical retinol product at night, and antioxidants daily to achieve glowing, healthy skin you desire.
To download Maffi Clinics' skin care for your 30's recommended medical-grade skin care products and skin care treatments, click here.
SKIN CARE TREATMENTS FOR TEENS
SKIN CARE TREATMENTS FOR TEENS
HydraFacial is a gentle treatment that starts with Dermaplaning. This is followed by a multistep process which cleanses, exfoliates and extracts the skin of impurities and dead skin cells while quenching the skin with antioxidants, peptides and hyaluronic acid. Customize your HydraFacial with an added Perk of a specialized eye or lip treatment. Watch HydraFacial treatment video.
Microneedling is a minimally invasive skin rejuvenation treatment using a dermal device with tiny microneedles that puncture the top layer of skin, stimulating the production of collagen. The procedure targets fine lines and wrinkles, acne scarring and melasma. There is minimal to moderate downtime. Watch Microneedling treatment video.
INJECTABLE: BOTOX AND DYSPORT
Botox and Dysport temporarily relaxes muscles, such as those in the face, so over time, wrinkles caused by everyday expression will not create permanent fine lines and wrinkles or a more aged appearance. It's a subtle procedure that's both quick and effective in having you look your best at your age. Watch Botox treatment video.
Dermal fillers are non-surgical treatments where material is injected into the skin to fill and smooth facial wrinkles and folds. They can also be used for volume replacement, bringing back a more youthful appearance. Watch Fillers treatment video.
Halo Light is a gentle non-ablative laser treatment that targets fine lines, skin tone and texture, and pore size. By creating heat in the underlying skin tissue without damaging the surface, new collagen is produced. These treatments are perfect for younger individuals who want to maintain their healthy, vibrant-looking skin. The procedure is quick and easy with little to no downtime. Watch Halo Light treatment video.
4 STEP DAILY SKIN CARE REGIMEN IN YOUR THIRTIES
Cleanse. Prevent. Protect. Correct.
Cleanse every morning and evening
Purifying Cleanser. This cleanser refines dull skin tone and uneven skin texture, while delivering hydration to dehydrated skin and employs a mild foaming action to efficiently remove surface debris and impurities, leaving skin feeling refreshed, renewed, and conditioned.
Simultaneously conditions, softens, and smooths skin.
Dually cleanses, exfoliates, and hydrates skin.
Paraben-, sulfate-, soap-, fragrance-, dye- and alcohol-free.
Phloretin CF. This daytime vitamin C serum provides advanced environmental protection to defend skin against the reactive molecules (including free radicals) that are known to cause cellular damage and helps improve the appearance of fine lines and wrinkles. Watch antioxidants video.
Offers advanced environmental protection against UVA and UVB radiation.
Diminishes the appearance of hyperpigmentation and helps accelerates cellular turnover to retexture skin.
Accelerates cell turnover and boosts skin's support structure.
Correct every morning and evening
H.A. Intensifier. This amplifies skin's hyaluronic acid levels and deliver surface hydration, helping improve the visible appearance of firmness, smoothness, and facial plumpness. Watch how to apply video.
Amplifies skin's hyaluronic acid levels by 30%.
Reduces the look of crow's feet, nasolabial folds (parenthesis around the mouth or laugh lines), and marionette lines (lines from the corners of the mouth down to chin) for smoother, firmer skin.
Physical Fusion UV Defense SPF 50. This weightless, 100% physical sunscreen provides water-resistant broad-spectrum protection with titanium dioxide and zinc oxide.
Sheer, universal tint adapts to every skin tone.
Water resistant for up to 40 minutes.
Boosts overall radiance for an even, radiant complexion.
100% physical sunscreen ingredients provide broad spectrum UVA/UVB protection.
Retinol 0.5. Our retinol products help stimulate cell regeneration and build collagen to diminish the appearance of fine lines, wrinkles, and age spots from both photo- and intrinsic aging. Watch how to apply video.
Helps reduce appearance of fine lines, wrinkles, age spots, uneven skin tone.
Preserves optimal retinol stability and minimizes irritation commonly associated with the use of retinol.
Ensures maximum amount of retinol reaches the target site.
Will not clog pores.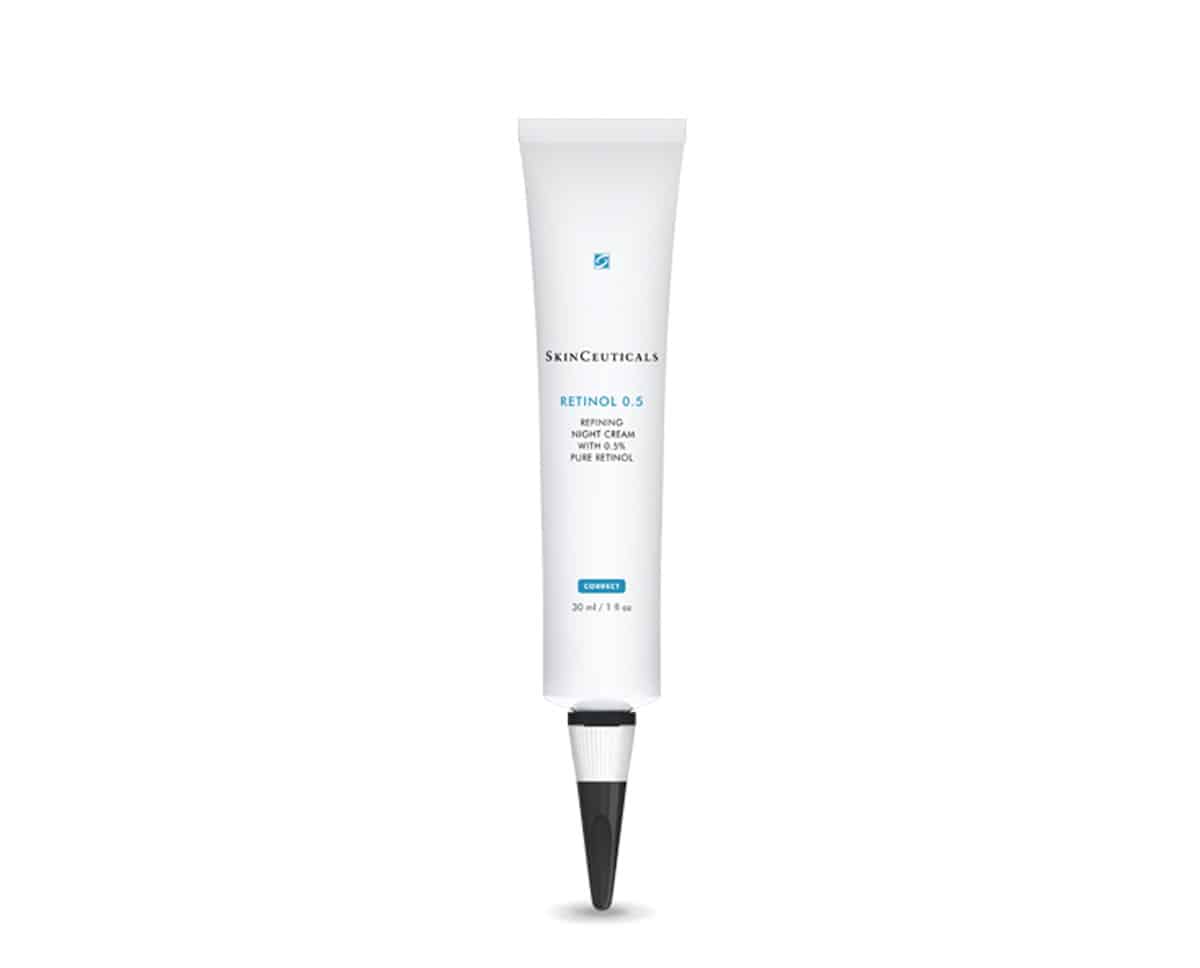 There is Beauty at Every Age