Help calm the overall appearance and feel of your skin.
Maffi's Sensitive Skin can help alleviate discomfort to the skin that develop symptoms overtime from the following triggers: product use, stress, environmental exposure, or certain fragrances. These symptoms are usually characterized by blotchiness, flushing, and flare-ups of redness.
SkinCeuticals medical-grade skin care products are clinically proven to help calm the overall look and feel of your skin. Maffi's Sensitive Skin include: cleansing, preventing, correcting, and protecting.
Use either product every morning and evening.
Your daily facial cleansing routine is vital. These effective cleansers wash away impurities, leaving the skin feeling fresh and prepared for a complete skin care regimen. Choose from either SkinCeuticals Gentle Cleanser or Soothing Cleanser.
Gentle Cleanser is a creamy, mild cleanser formulated with an emollient-rich surfactant and 3% concentration of key ingredients combining allantoin, glycerin, and orange oil to soften and restore the skin's surface.
This non-foaming cleanser efficiently removes impurities and long-wear face and eye makeup without any trace of residue.
Softens skin while cleansing and lifting surface debris.
Non-comedogenic formula ideal for daily use.
Suitable for dry, normal, sensitive, reactive, or post-procedure skin.
Paraben-free, sulfate-free, soap-free, synthetic-fragrance-free, dye-free, and alcohol-free.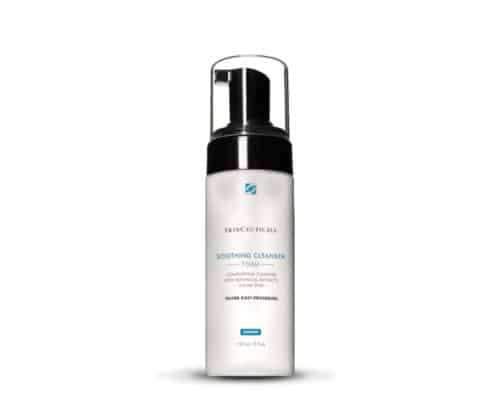 Soothing Cleanser is a dense, calming foam suitable for all skin types. This cleanser is formulated with a rich amilite surfactant and a 22% concentration combining sorbitol, glycerin, orchid extract, and cucumber extract. Perfect for soothing and comforting sensitive, compromised, or post-procedure skin.
Removes long-wear face makeup.
Non-comedogenic formula ideal for daily use.
Ideal complement to in-office procedures.
Paraben-free, sulfate-free, soap-free, synthetic-fragrance-free, dye-free, and alcohol-free.
Use product every morning.
Lifestyle along with environmental factors like UV rays, infrared radiation, and pollution can generate free radicals that can damage the skin. Serum 10 AOX+ is clinically proven to help improve the skin's appearance.
Serum 10 AOX+ is a daytime introductory vitamin C serum for sensitive skin that offers environmental protection and improves the appearance of aging.
Helps reduce the appearance of fine lines and wrinkles.
Absorbs and effective for a minimum of 72 hours.
Paraben-free, fragrance-free, alcohol-free, and dye-free.
Use either product every morning and evening.
Corrective serums are concentrated formulations designed to correct the appearance of specific skin concerns and conditions. Backed by science, these corrective serums are clinically proven and carefully formulated to provide optimal results for sensitive and rosacea skin.
Phyto Corrective Gel is a hydrating, soothing serum with botanical ingredients ideal to calm and hydrate skin while improving visual redness. Watch video.
Contains anti-inflammatory cucumber and anti-bacterial thyme to soothe and calm irritated skin.
Helps prepare skin for rejuvenating procedures and reduces post-treatment redness.
Excellent light oil-free hydrator for acneic skin.
Phyto Corrective Masque contains highly-concentrated botanical extracts, a calming dipeptide, and hyaluronic acid to intensively soothe and replenish temporary skin reactivity. This intensive calming facial mask cools on contact, comforts skin sensitivity, and restores natural radiance and smoothness.
Daily: post workout, sun exposure, hot bath.
Weekly/Seasonal: post travel, chlorine/salt water from swimming, windburn from winter activities.
Post-procedure: post laser, extractions, photodynamic therapy, and other in-office procedures.
Use product every morning.
Never leave home without it. Sunscreen is key to protecting your skin. It shields your skin from harmful UV rays, helps prevent facial brown spots and discoloration, helps slow down the development of wrinkles and premature aging, and above all can help fight skin cancer.
PHYSICAL FUSION UV DEFENSE SPF 50
This weightless, 100% physical sunscreen provides water-resistant broad-spectrum protection with titanium dioxide and zinc oxide. Enhanced with artemia salina, a plankton extract, this lightweight sunscreen increases skin defenses and resistance to UV and heat stress.
Sheer, universal tint adapts to every skin tone.
Water resistant for up to 40 minutes.
Boosts overall radiance for an even, radiant complexion.
Ideal for all skin types, even very sensitive.