Uneven Skin Tone Essentials
Smoothes skin texture, unclogs pores, and brightens skin.
Maffi's Uneven Skin Tone Essentials can help reduce the natural pigment that gives color to your skin due to chronic UV exposure, hormonal fluctuations, and past acne blemishes.
SkinCeuticals medical-grade skin care products are clinically proven to help reduce discoloration depending on the cause behind your concern. Maffi's Uneven Skin Tone Essentials include: cleansing, preventing, correcting, and protecting.
Use either product every morning and evening.
Your facial cleansing routine is a vital part of your skin-care regimen, which is why you should prioritize it daily. Not all cleansers are created equal so choose a medical-grade, science-tested product like LHA Cleansing Gel.
LHA Cleansing Gel is a targeted exfoliating cleanser featuring a conditioning surfactant and a 12% concentration of key ingredients combining lipo-hydroxy acid, glycolic acid, salicylic acid, glycerin, and sorbitol.
Formulated for skin prone to breakouts, this deep cleansing gel gently refines the appearance of congested pores and helps reduce blemishes.
Features a blend of salicylic acids to address breakouts and visible signs of aging.
Delivers even exfoliation to unclog congested pores.
Removes excess oils and makeup.
Paraben-free, sulfate-free, soap-free, synthetic-fragrance-free, dye-free, and alcohol-free.
Use product every morning.
Phloretin CF is a vitamin C serum that helps deliver advanced environmental protection, while improving the appearance of fine lines and discoloration.
This daytime vitamin C serum provides advanced environmental protection to defend skin against the reactive molecules (including free radicals) that are known to cause cellular damage and helps improve the appearance of fine lines and wrinkles. Watch video.
Offers advanced environmental protection against UVA and UVB radiation.
Diminishes the appearance of hyperpigmentation and helps accelerate cellular turnover to retexture the skin.
Boosts skin's support structure.
Use each product as directed by your aesthetician.
Corrective serums are concentrated formulations designed to correct the appearance of specific skin concerns and conditions. SkinCeuticals science-proven serums are essential for achieving optimal skin health.
Discoloration Defense is a daily-use dark spot corrector clinically proven to reduce the appearance of hard-to-treat discoloration such as stubborn brown patches and post-acne marks. This formula improves the appearance of skin discoloration, brightens skin, and evens skin tone in as early as 2 weeks.
60% average improvement in the appearance of stubborn brown patches.
At-home complement to professional skin discoloration treatments.
Paraben-free, fragrance-free, silicone-free, gluten-free, and hydroquinone-free.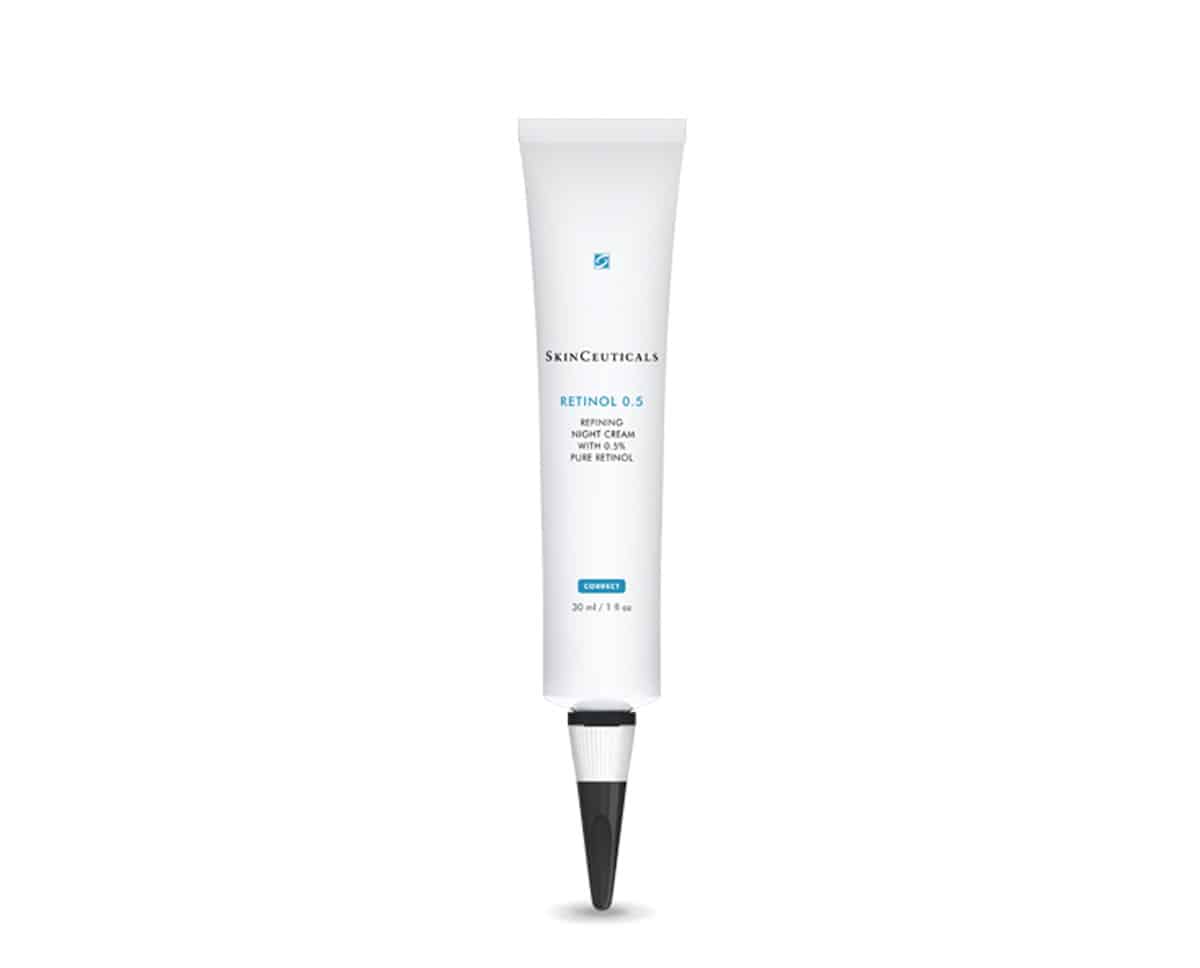 This retinol helps stimulate cell regeneration and build collagen to diminish the appearance of fine lines, wrinkles, and age spots from both photo- and intrinsic-aging. Retinol 0.5 contains 0.5% pure retinol and is recommended as a prerequisite to SkinCeuticals Retinol 1.0. Watch video.
Preserves optimal retinol stability and minimizes irritation commonly associated with the use of retinol.
Ensures maximum amount of retinol reaches the targeted site.
Will not clog pores.
Use product every morning.
Never leave home without it. Sunscreen is key to protecting your skin. It shields your skin from harmful UV rays, helps prevent facial brown spots and discoloration, helps slow down the development of wrinkles and premature aging, and above all can help fight skin cancer.
PHYSICAL FUSION UV DEFENSE SPF 50
This weightless, 100% physical sunscreen provides water-resistant broad-spectrum protection with titanium dioxide and zinc oxide. Enhanced with artemia salina, a plankton extract, this lightweight sunscreen increases skin defenses and resistance to UV and heat stress.
Sheer, universal tint adapts to every skin tone.
Water resistant for up to 40 minutes.
Boosts overall radiance for an even, radiant complexion.
Ideal for all skin types, even very sensitive.