Ablative Laser Therapy Essentials
Complement your procedure with a SkinCeuticals Regimen.
Ablative Laser Therapy is a resurfacing laser treatment that delivers targeted wavelengths of light to skin, removing the top layer of skin, while stimulating underlying skin to self-repair. This treatment creates smoother texture, collagen remodeling, and reduces signs of sun damage. These lasers are often used to treat wrinkles, sun damage, scarring (including acne scars), and discoloration.
To complement your Ablative Laser Therapy treatment, Dr. Maffi recommends the following SkinCeuticals medical-grade skin care products.
Have questions about an Ablative Laser treatment or the Ablative Laser Therapy Essentials? Call or schedule a laser consultation today!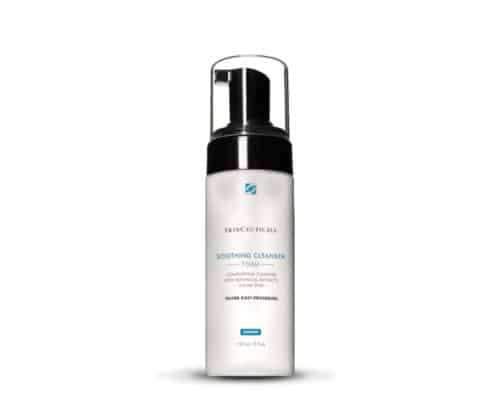 Gently removes impurities
Soothing Cleanser is a dense, calming cleansing foam suitable for all skin types. This cleanser is formulated with a rich amilite surfactant and a 22% concentration. These combine sorbitol, glycerin, orchid extract, and cucumber extract to gently remove impurities while soothing and comforting sensitive, compromised, or post-procedure skin.
Removes long-wear face makeup.
Non-comedogenic formula ideal for daily use.
Complements in-office procedures.
Paraben-free, sulfate-free, soap-free, synthetic-fragrance-free, dye-free, and alcohol-free.
Brightens skin's complexion
A synergistic daytime vitamin C antioxidant that delivers advanced environmental protection against photoaging by neutralizing free radicals that cause accelerated signs of aging. Watch video.
Increases firmness and replenishes lipids to visibly reduce wrinkles.
Provides advanced environmental protection against damaging free radicals induced by UVA, UVB, and infrared radiation.
Paraben-free and ideal for all skin types.
TRIPLE LIPID RESTORE 2:4:2
Supports natural skin repair
Triple Lipid Restore 2:4:2 is an anti-aging cream formulated with a maximized concentration of lipids: 2% pure ceramides, 4% natural cholesterol, and 2% fatty. All help to restore skin's external barrier and support natural self-repair. Watch video.
Improves the look of skin fullness and texture.
Improves the appearance of skin evenness and overall radiance.
Ideal for aging, normal, and dry skin types.
Paraben-free and dye-free.
PHYSICAL UV DEFENSE SPF 30
Provides all day hydration
Formulated specifically for post-procedure, sensitive, and very dry skin. This sunscreen combines barrier repair and broad spectrum UVA/UVB protection. More advanced than traditional sunscreens, Physical UV Defense SPF 30 is proven to increase the expression of essential proteins responsible for skin's barrier integrity.
100% mineral filters, broad spectrum UVA/UVB protection.
Provides all day hydration in a nourishing, comforting texture.
Paraben-free and fragrance-free.
12 ADDITIONAL ESSENTIAL SYSTEMS
Medical-grade skin care products to help maintain your skin.
SKIN IS AN ESSENTIAL COMPONENT OF BEAUTY
Let Maffi help you restore, maintain, and rejuvenate your skin.
We look forward to the opportunity to meet and discuss your personal goals with you. Call Maffi Clinics at 480.505.6430 or send an email consultation request today!