Complement your procedure with a SkinCeuticals Regimen.
Halo is a hybrid resurfacing laser treatment that combines ablative and non-ablative wavelengths of light into the skin. The heat generated from this treatment can cause remodeling of the collagen in the dermal layer of the skin (dermis). In addition, improves the appearance of pores, sun damage, discoloration, fine lines and wrinkles on the top layer of the skin (epidermis). The fractionated technology used in this treatment help reduce the down time when targeting both layers of the skin.
To complement your Halo treatment, Dr. Maffi recommends the following SkinCeuticals medical-grade skin care products.
Have questions about a Halo treatment or the Halo Essentials? Call or schedule a laser consultation today!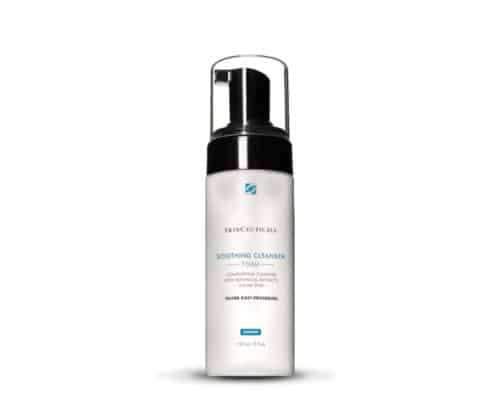 Gently removes impurities
Soothing Cleanser is a dense, calming cleansing foam suitable for all skin types. This cleanser is formulated with a rich amilite surfactant and a 22% concentration. These combine sorbitol, glycerin, orchid extract, and cucumber extract to gently remove impurities while soothing and comforting sensitive, compromised, or post-procedure skin.
Removes long-wear face makeup.
Non-comedogenic formula ideal for daily use.
Complements in-office procedures.
Paraben-free, sulfate-free, soap-free, synthetic-fragrance-free, dye-free, and alcohol-free.
Brightens skin's complexion
A synergistic daytime vitamin C antioxidant that delivers advanced environmental protection against photoaging by neutralizing free radicals that cause accelerated signs of aging. Watch video.
Increases firmness and replenishes lipids to visibly reduce wrinkles.
Provides advanced environmental protection against damaging free radicals induced by UVA, UVB, and infrared radiation.
Paraben-free and ideal for all skin types.
Metacell Renewal B3 delivers 5% niacinamide combined with tri-peptide concentrate and 15% glycerin to correct early symptoms of photoaging. Also, it's a daily corrective moisturizer that reclarifies skin tone, reduces wrinkles, and evens skin tone.
Renews skin by increasing cell turnover and strengthens skin's moisture barrier.
Boosts hydration volume and enhances skin's firmness.
Reduces discoloration and decreases redness.
Epidermal Repair is specifically formulated to help repair compromised skin by facilitating the rapid restoration of its barrier function. This gentle treatment helps rehabilitate sensitive skin and is ideal for post-skin care treatments.
Accelerates restoration of the skin's protective barrier.
Reduces inflammation.
Helps protect compromised skin.
PHYSICAL FUSION UV DEFENSE SPF 50
Water-resistant sunscreen
This sunscreen's active ingredients of titanium dioxide and zinc oxide provides broad spectrum mineral SPF protection and enhances natural skin tone to boost the appearance of radiance.
Sheer, universal tint adapts to every skin tone.
Water resistant for up to 40 minutes.
100% physical sunscreen ingredients provide broad spectrum UVA/UVB protection.
Ideal for all skin types, even very sensitive.
12 ADDITIONAL ESSENTIAL SYSTEMS
Medical-grade skin care products to help maintain your skin.
SKIN IS AN ESSENTIAL COMPONENT OF BEAUTY
Let Maffi help you restore, maintain, and rejuvenate your skin.
We look forward to the opportunity to meet and discuss your personal goals with you. Call Maffi Clinics at 480.505.6430 or send an email consultation request today!